Yoga
My passion for yoga began as teenager as I became fascinated with yoga philosophy, and this has continued to this day. In my 20's I studied with the Sivananda, Desikachar and Iyengar yoga traditions, going on to become a yoga teacher with the British Wheel of Yoga at age 30. I am now also a British Wheel of Yoga Tutor, and have enjoyed running BWY Yoga Teacher Training Diplomas for more than 18 years. I have also taught many times at the BWY Teachers Training Week, which has always been a pleasure.
More recently I was commissioned to write a series of yoga courses to be run throughout China as the government sponsored form of yoga. It was felt that most yoga currently available in China was too forceful and created too many injuires so it was a great honour to introduce yoga highlighting working with individual capacities and intelligent progression, rooting the practices in accessible yogic philosophy. To this end yoga foundation, yoga teacher training and yoga therapy courses have been written; and having spent far too long at the computer the exciting news is that these courses began to be taught in China starting in August 2011.
Ayurveda
I am a fully qualified and insured Ayurvedic Consultant who initially trained with the American Institute of Vedic Studies under the tutorage of Dr David Frawley (Vaidya Vama Deva), and then with the European Institute of Vedic Studies under the tutorage of Vaidya Atreya Smith and Alex Duncan. I have also completed a Clinical Internship with Dr Alaknanda Rao (B.A.M.S) and Dr Deepa Kshire (B.A.M.S) at the Panini Clinic, Pune, India, and have since taken various short courses with several Ayurvedic Doctors in the U.K.
Mindfulness Training
Over the last few years I have been working more intensively with mindfulness practices, especially practising and teaching meditations focusing upon our emotional self. Having attended several training courses with the University of Bangor in North Wales I went on to complete their Mindfulness Based Teacher Training Programme. I am now planning to begin teaching mindfulness techniques to others as they can be so very transformative and certainly make the ordinary extra-ordinary! Mindfulness is also very relevant indeed to the practices of Yoga and Ayurveda, and is certainly a key aspect of the Yoga Teacher Training Diploma.
Healing
I have been working with energy medicine in various forms for many years, in particular focusing upon developing my receptivity skills. In 2021 graduating as a Biodynamic Craniosacral Therapist, a therapy which possesses the same underlying view of the world as we find in Yoga, especially Tantrik Yoga. A joy to give and receive!
Druidry
Over the last few years I have continued in my studies with the Order of Bards, Ovates & Druids and become an Awenydd of the Anglesey Druidry Order. This has been an extraordinary journey of celebration of the natural world and experiential studies of our relationship to self and other. The journey continues.....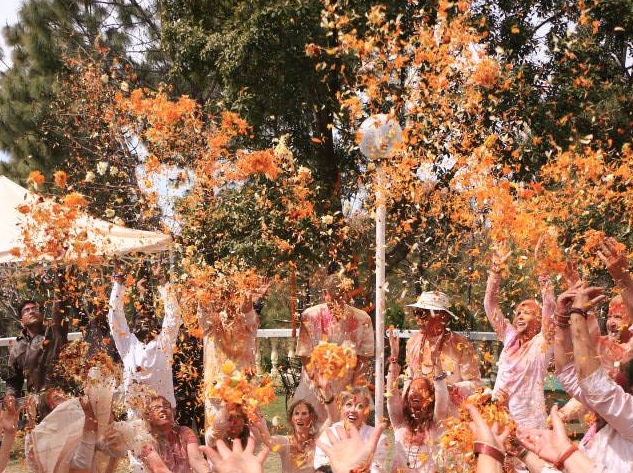 The Festival of Holi, Himalayas, March 2014